Date

Saturday June 15th

Time

12 hour - 9 am to 9 pm, registration and course planning from 7 am
6 hour - 11am to 5pm, registration and course planning from 9.30am
Location

Broomfield area in North Canterbury - near Amberley

Accommodation

There is limited accommodation near the event, but Christchurch is just down the road

Terrain

It is over a similar area to the 2010 HOW, mostly low undulating farm land with a higher part of the course on the east flank of Mt Grey.

Map

The map will most likely be derived from Topo50, the NZ standard topographic map with 20m contours. It will be pre-marked with checkpoint sites and out of bounds areas. Map size and scale will be notified closer to the event.
There will be separate maps for each of the 6 and 12 hour events with mainly differing control points.
What is Rogaining?
A rogaine is a cross-country navigation event on foot, using a map and compass. This event will take you over a mix of challenging farmed and forested hill country with some scattered scrub and native bush.
Each person in your team (comprising 2 to 5 people) is given a standard topographical map with about 60 checkpoints of differing points value marked on it. A clue is provided for each checkpoint, e.g. "A saddle, N side". Teams collect points by visiting checkpoints over the duration of the rogaine. The team with most points wins. Late finishers lose points.
As a team you choose your own route and distance within the mapped area. You decide which checkpoints to visit and in which order. You can be as competitive or as social as you choose. A team can go out 'on course' for the full time, or just a few hours. Water may be provided at one or more locations on the course. If they wish, teams can take a break at the hash house where hot food and drink is available from late afternoon. There's an evening meal after the event too.
Plan your course well. Rogaining is as much about careful route choice and navigation as it is about physical endurance. For fit, first-time people, plan on about 2 to 2.5 kms per hour average over the whole event time. If you find you travel faster or slower adjust your course as you go.
For further information check out the NZRA website rogaine.org.nz.
Can I do this?
So you have done some 2 hour events or even longer. This is the time to step up. You can do it! This is about having fun with your team mates.
If you are not sure, let us know with your entry. Or talk to someone at the registration desk.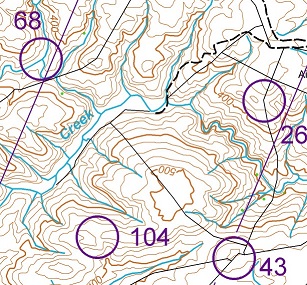 Look at the map. The lines (see through 68) are magnetic north which is where your compass will point. From the track (dashed line) you should be able to follow the fence to 26. From there your should be able to continue following the fence to 43 but beware, the first part is down a hill to the creek bed. (Check that there is a stream junction there abouts.) Then you have to climb back up another hill. But when you are there you should have an easyish route to 104.
Contacts
Event

Douglas Woods - douglas@black-woods.co.nz

Entries

Wayne Millow - entries@rogaine.org.nz

Acknowledgment

The NZRA is organising Heights of Winter with assistance from Broomfield school. The school committee has been very active encouraging the many landowners to provide access to their land. They are looking forward to hosting this event as a major fundraiser for their school.
Broomfield School

Fundraising

The Broomfield School is offering a special tea towel as part of their fundraising. Cost is $10. Request with your entry or purchase at the event.
Entries open at midday on Monday April 22nd
View from Mt Grey looking over some of the course